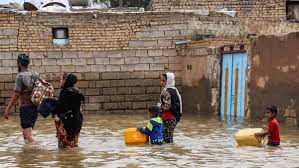 Due to the neglect of the Persian occupation authorities of the Arab state of Ahwaz, an eight-year-old child fell into a sewage well and died in one of the Ahwaz parks due to lack of supervision by the relevant authorities.
According to Harana News Agency, the child, Meitham Shawardi, suddenly fell into the sewage well in the Martyrs' Park in Ahwaz.
Earlier, social media activists circulated a video clip showing an aspect of exclusion, marginalization and poverty in the occupied Arab Ahwaz, which the occupation deliberately practices towards the occupied country.
It is worth noting that the occupied Arab Ahwaz secures 60% of the national production of wheat, energy and water for all of Iran and lives in a tragic situation at all levels.
The Persian neglect of previously occupied Arab Ahwaz continues, which made it a neglected place, while all the occupation's interests go to supporting its militia in the Middle East region to work on spreading discord and destabilizing to consolidate Persian influence in these countries.
Where neglect increases in water, despite the great resistance that Al-Ahwaz possesses, the occupier aspires to usurp it and abuse its people.