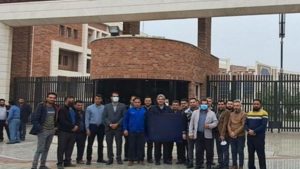 Ahwaz News
Top News
A protest of company workers working in the municipal complexes of Ahwaz
Corporate workers working in occupied Ahwaz municipalities organized a protest in front of the governor's building and the military representative of the Iranian occupation regime in the Ahwaz capital.
The reasons for the strike were the low salary level, poor living conditions and lack of interest on the part of the officials concerned in the demands of the workers.
The workers demanded that workers improve their living conditions and salary regularity as well as officials fulfil their promises to improve their employment status, given the high inflation and high cost of living.